Top Three Benefits & Uses for Wire Shelving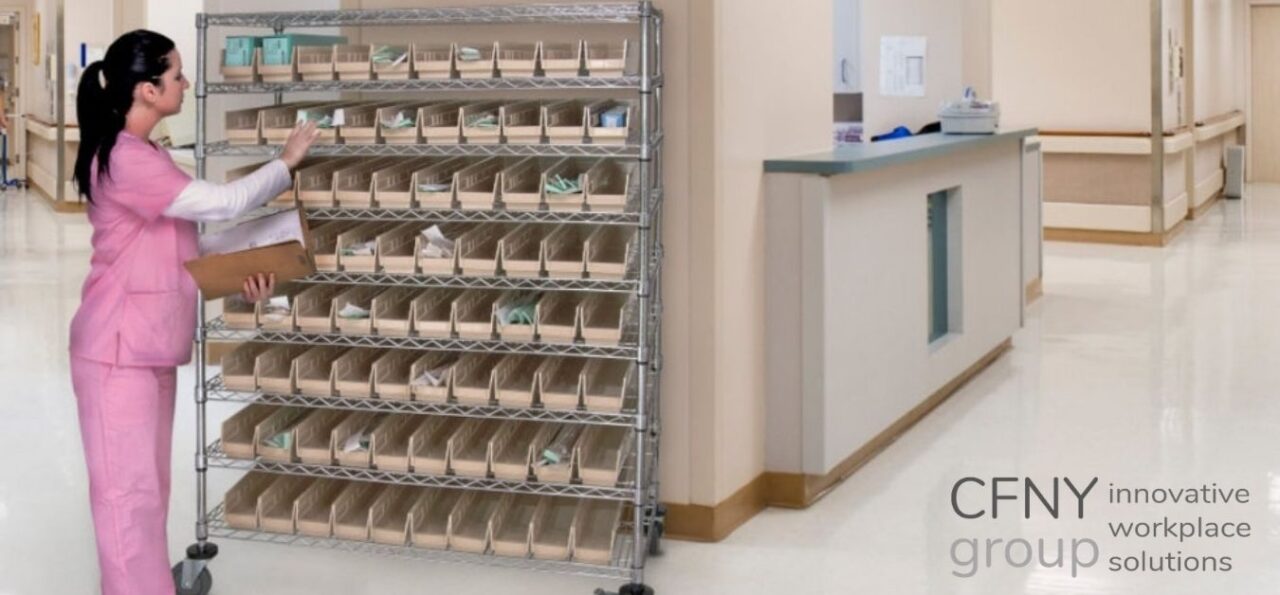 Wire shelving is a storage solution that is often used in homes, offices, and industrial companies. It has many benefits and uses, so we've compiled a brief list of some of the popular ones. Here are some of the benefits:
1. Customizable.
Wire shelving comes in a variety of shapes, sizes, and colors. For example, popular finishes include: zinc plated, nickel chrome plated, black/white epoxy finish, and antimicrobial. Such customization guarantees you will find the right fit, design, and finish for your storage needs.
If you're looking for a modern feel, maybe consider a shelving unit with a gold-finish with the addition of brown wooden shelves. If you want to keep it simple, consider a sleek, white epoxy wire rack. If you are dissatisfied with the finish you initially bought, it is also easy to paint, so you do not have to go out and buy something entirely new.
It is also available in almost any form. Whether it's freestanding shelving, closet organization, wine racks, kitchen islands, etc., there is a unit for your exact needs. It is also reconfigurable in case you change your mind later.
Typically, wire shelving is made of steel posts and sturdy, support wires that interweave to create a mesh pattern. These steel posts have incremental shelf position markings so the height of each shelf can be customized.
It is also a good option for renters because it is not a permanent change; you can take it with you if or when you move out. The freestanding shelving options do not require poking holes in the wall, which means you will not have to go out and buy spackle last minute to get your deposit back.
2. Durable.
Wire shelving requires much less maintenance than wood shelving. Wood shelving often needs refinishing over time and periodic treatment as it gets scuffed, dented, and warped from the elements. Wire racks, on the other hand, just need a quick wipe down occasionally because they do not collect as much dust.
Also, depending on the design, most wire shelving can hold around 200 pounds. However, there are also industrial welded shelving units that can hold up to 800 pounds.
3. Clean.
Because there are gaps between each individual wire, less dust builds up over time. This means not only less cleaning, but you will not have to take everything off your shelves every time you want to give it a thorough wipe down. The wire racks practically do the work for you, letting the dust fall right through and collect on the floor, a much easier surface to clean.
In terms of benefits, wire shelving is functional, long-lasting, and clean, but you may be wondering: what is it used for?
1. Kitchens.
Wire shelving is an excellent choice to organize your pantry. If you don't have pantry space in your kitchen or if your pantry is too small, wire shelving is the perfect solution because it can be placed in an open space in your hallway or another available room. If you want to keep it out of sight, consider placing it in the garage.
It can also be used as a kitchen island alternative with a block countertop addition. Casters or wheels can also be added to give your island mobility. Similarly, you can use it for wine storage as there are specific shelving units designed to store bottles of wine both on their side or upright.
It is also pest resistant. With regular shelving, mice and other rodents are able to hide behind your stockpile. However, the gaps between each wire makes it difficult for these unwanted guests to both climb and hide.
2. Closets.
Wire shelving can help you organize your wardrobe. You can organize and configure the units based on the garments you already have, organizing by the type of garment, color, or otherwise. It can also be transformed into a shoe rack; simply turn the wire unit upside down to add a lip to the edge of the rack so your shoes do not slip out.
3. Bedrooms.
Wire shelving in bedrooms is often common in studio apartments and dorm rooms to make use of the limited space. However, it can also be used to add a bookshelf or to add a nightstand next to the bed.
While these are three uses for wire shelving in the home, it also has many possibilities for storage in modern offices and industrial companies. If you are looking to install shelving in your home, office, or business, CFNYgroup is here to help! Call 212.352.0030 for more information or visit CFNYgroup online at https://cfnygroup.com/ to discuss the right wire shelving option for you.