Styling Tips For Beautiful Library Shelving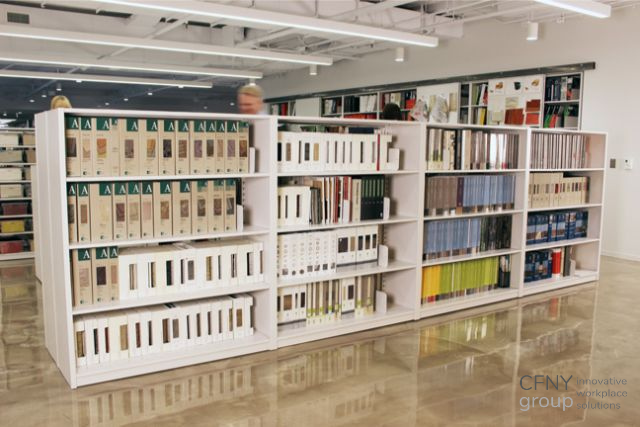 Whether you are styling your home library or adding shelving to your workspace, the different configurations of library shelving are vast. Luckily, we have compiled a list of styling tips to help you find the best storage solution for you.
Before getting into the actual look and style of your library, it is important to consider why you're adding in or purchasing freestanding shelving. Typically, there will be two options: actual storage and shelf space versus added design and flare. The right storage solution for you will often combine these interests, but understanding which you prioritize will make finding the right fit for your project easier.
If you are looking to maximize space, many businesses utilize high-density storage. This is an option that consists of large, steel shelving units with cranks on one end. When the crank is turned, the units become mobile, pressing up against one another or exposing a previously hidden shelving unit. This option is commonly used when you have an extremely large collection of something to store, such as every issue of Time magazine from 1923 to today.
If you are looking to add a level of style to your living room, consider adding tall shelves that allow for books as well as decorative items such as vases, busts, photographs, candles, plants, etc. Some shelving options commonly seen in living rooms have a large cutout in the middle to house a television.
Next, consider whether you will be adding in library shelving or purchasing freestanding shelving. Not everyone has the budget to built-in shelving, so freestanding shelving can be a great alternative.
Though built-in shelving is known to be particularly space efficient, freestanding shelving is customizable. This means it can be reconfigured to be both space efficient and adaptable. Freestanding shelving is perfect if you like to switch up your display from time to time.
The amount of space you have should also be taken into consideration. If you don't have much free space, consider using a collection of small shelves spread throughout your house as your library. A hallway or alcove is perfect for a small reading spot.
Similarly, if you don't have much wall space, considering building a library all the way up to the ceiling to make use of the wall space you do have. Several short bookcases will look clunky and take up too much space. You could also build a bookcase around a fireplace, window, or door to utilize space.
If you don't have much floor space, consider adding library shelving above other objects such as the living room couch. This is the perfect spot for a few shelves and the couch is the perfect spot to get some reading done. Simply reach above your head, grab a book, and escape into a story.
However, if you have too much space, consider using a bookcase to naturally divide a room or open floor plan. If you do not always want to feel like you are in your kitchen, add a bookcase to serve as a partial wall.
If you are looking to install library shelving in your home, office, business, or classroom, CFNYgroup is here to help! Call 212.352.0030 for more information or visit CFNY group online to discuss the right library shelving option for you.